Aqra bil-Malti: Riċetta: Faqqiegħ u pulpetti Bordon
Recipe by Laura Cachia.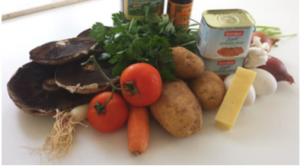 Ingredients: 
Portobello mushrooms
Onions
Carrots
Bordon Corned Beef Light
Cheddar
Turmeric
Hot paprika (optional)
Olive oil
Parsley
Tomatoes/ pulp 
Potatoes
Margerine/butter
Garlic
Spring onion
Worcestershire sauce
Milk
Eggs
Fresh/ powdered mustard
Breadcrumbs and balsamic glaze for decor
   Instructions: 
Peel the potatoes, cut in small cubes and boil it for about 20 minutes until very soft.
Until the potatoes are cooked, clean the mushrooms by disconnecting the stem and gills. Don't  throw anything away.
Peel the onion, carrot, garlic and chop all very finely. Fry the mixture and add a little tomato pulp or a small tomato. Add Bordon Light Corned
Beef to the mixture and add a little salt and pepper.
Wipe the Portobello mushrooms with olive oil on the outside.
When the mixture cools thoroughly, fill it with mushrooms, add some oregano, parsley and top with cheddar cheese. Important to put mushrooms in foil and in the oven for 20 minutes at 200C and then continue by grilling for 10 minutes until the cheese melts. 

 Until the mushrooms are done, mash the potatoes. Drain the boiled potatoes from the water. Add some margarine or butter and compress well.

Until it cools, fry the onion and carrot. It's good to add a little turmeric and if you want, some paprika also. If mustard is powder, add it to the fried items. Leave to cool.


Beat the two eggs and add it to the potatoes. Also add the Bordon Light Corned Beef, a teaspoon of Worcestershire sauce and fresh mustard.

Crush everything. If you see that the mixture is very thick, you can add a little milk.

Add fried items with the rest of the mixture and pour also the parsley and the gills of the mushroom.

Add the breadcrumbs and form into meatballs, the size that you want.

Let the meatballs rest in the refrigerator for a better result.

Get the pan ready with a bit of oil until it's properly hot.