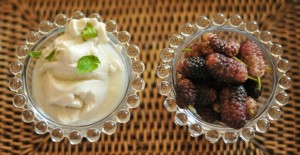 I am always searching for different ways to cook meals using fresh local ingredients, then last year I met Andrew Borg.
Andrew is carving out a reputation for quality and innovation using seasonal fresh produce that is locally sourced. He promised to meet my challenge to create a menu that can be used as a showcase of our local ingredients offering a taste of the Mediterranean to my overseas guests.
I love fresh ingredients in dishes that are simple, light, full of flavour and colour, and I was in search of a straightforward meal that can easily be prepared with minimal effort by a home cook with a busy lifestyle. I was very pleased with the simplicity of Andrew's choice of menu.  
Andrew harmoniously combines the locally sourced, fresh, seasonal ingredients he is so passionate about to create recipes that are easy to prepare at home: a simple, elegant and clean farm-to-table menu using traditional Maltese ingredients in an inventive but simple way. Andrew suggests serving a light Minestra (vegetable soup) in beautiful clear glass soup bowls, followed by a choice of braised pork cheeks, loin of rabbit and a simple salad of octopus and ham hock.    
The soup is delicate, creative and colourful with finely chopped summer pumpkin, courgettes, turnips and carrots that have retained their colour as they are barely cooked in a light vegetable consommé. Each bowl is garnished with a giant raw Mediterranean prawn and finely dusted with a fresh grating of hard goat's cheese or ġbejna. 
Pork cheeks respond well to slow cooking; the cooked plump cushions of meat look divine and Andrew is able to turn a humble cut into a delicacy. There are about 160 pig farms in Malta and local pork is reputed to be a very high quality product. A tartare of apricots and kohlrabi is garnished with fresh marjoram and a drizzle of freshly pressed virgin olive oil. 
The loin of rabbit is perfectly poached in olive oil, glazed in Maltese thyme honey then tossed in orange zest and fennel seeds. This is a light dish, very different from the traditional fenkata-style rabbit stew in wine sauce, which is one of Malta's national dishes. I am delighted by this dish as rabbit meat is almost cholesterol free and contains less fat and sodium than other meats.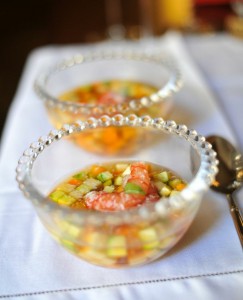 The interplay of charred octopus and ham hock makes a wonderful salad, bringing a burst of bright colour to the table with rocket leaves, courgette flowers, endive and blue basil. This salad balances the rich flavours and tenderness of the octopus and ham hock with the crispness of the al dente vegetables.     
The ricotta and mint ice cream is light and refreshing, an ideal way to end a summer meal. Once again I am inspired and conjure up endless ways to use local ricotta and mint, which grows abundantly on the island... perhaps a ricotta and mint dip, roasted courgettes stuffed with ricotta and mint, so many possibilities! Sweet wild mulberries, hand-picked from the Wardija countryside, are served with the ice cream and the combination is magic!
The result is a triumph and I am excited about the simplicity of these dishes, which can easily be made at home without spending hours in the kitchen.
"Malta has much to offer," Andrew says. "Using quality produce reduces cooking and preparation time and adds amazing flavours to home cooked meals. Simplicity is always best."
Photos taken by James Bianchi 
Did you enjoy reading this? Let us know whether you'd like to see more of this content by sharing, rating, and commenting on this post.