We all know that feeling sexy and sensual is part of the joy of human experience, but have you ever tried eating certain foods to boost your sex life?
Some foods are known to be natural aphrodisiacs, meaning they contain substances that tend to arouse sexual desire. Discover the A-B-C of easily-available-foods to feed your partner and their passions.
A-B-C Sexy Snack: make a guacamole from avocado seasoned with basil and chili 
Avocados: Resembling voluptuous female curvatures or a male's crown jewels as they hang in pairs on a tree, the avocado is packed with nutrients that boost hormone production and fertility.
Basil: The alluring aroma of basil is said to have an aphrodisiac effect; it is also very stimulating. Basil has a warming effect on the body and enhances sexual desire by increasing heart rate and improving blood flow. 
Chili peppers: A well-known aphrodisiac, chilies release endorphins to boost mood and surge energy while its heat warms the body, makes the tongue tingle, causes lips to swell and the pulse to quicken.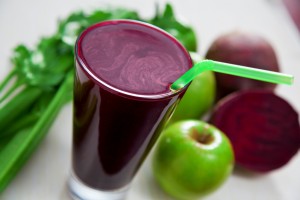 A-B-C Sexy Smoothie: use these fresh ingredients to spice things up in the bedroom 
Apples: The symbol of health and temptation contains the compound phloridzin, which is similar to the female sex hormone estradiol, largely responsible for sexual arousal. Apples also contain polyphenols and antioxidants which can stimulate blood flow to the genitalia.
Beetroots: Beets are a natural source of tryptophan and betaine, both substances that promote a feeling of well-being. They also contain high amounts of boron, a trace mineral that increases the level of sex hormones in the human body.
Celery: Celery is high in essential nutrients that make for great sex, plus it contains  androsterone and adrostenol, which serve as a sexual attractant when ingested.
C is also for carrot, which has been attributed the power to stimulate sexual appetites. Whether this is true or not, it goes really well with these other three ingredients to make a super smoothie so powerful that it can certainly contribute energy to go for hours! Stick in a piece of ginger for extra zest.
A-B-C Sexy Sweet: dip bananas in chocolate and sprinkle with crushed almonds
Almonds: Almonds are known to arouse women even merely by their smell.  They also lower cholesterol and provide abundant doses of vitamin E, magnesium and fiber to increase energy levels and fertility.
Bananas: Bananas contain minerals and enzymes that enhances male libido. They are rich in potassium, vitamins and magnesium which boost sexual hormone production.
Chocolate: Raw chocolate is the ultimate of natural aphrodisiacs, containing anandamide, the psyochoactive feel-good chemical; phenylethylamine, which induces feelings of excitement, attraction and euphoria; and tryptophan, which promotes a sense of well-being and relaxation by helping the brain produce serotonin.
Of course there are several other foods that have earned the reputation of assisting the age-old desire of an unquenchable libido, with at least 23 other letters of the alphabet to explore! However, as they say, it is good to start with the ABCs and 123s, so try these suggestions first and let us know if you feel they work!
Do you have a favourite aphrodisiac food you like to use? Did you find this article useful? Leave your comments below and please rate and share to help us bring you more of the stuff you enjoy.