Did you know that bulgar only contains 83 calories per 100 g when cooked as opposed to 135 calories in rice, 131 in pasta, 112 in couscous and the big surprise was quinoa at 143 calories. This bulgar dish makes a great starter, main course or side dish. It can be refrigerated overnight and is delicious the next day.
Ingredients:
250g bulgar wheat (medium)
A handful of rocket leaves, chopped
2 peppered cheeselets (ġbejna)
2 tomatoes, chopped
A can of washed and drained chickpeas
4 dried apple rings (approximately 25 g)
1 tspgrated lemon rind
1 tbsplemon juice
½ tsp dried basil
1 red fresh chilli pepper (optional)
Salt and freshly ground pepper
4 tbsp olive oil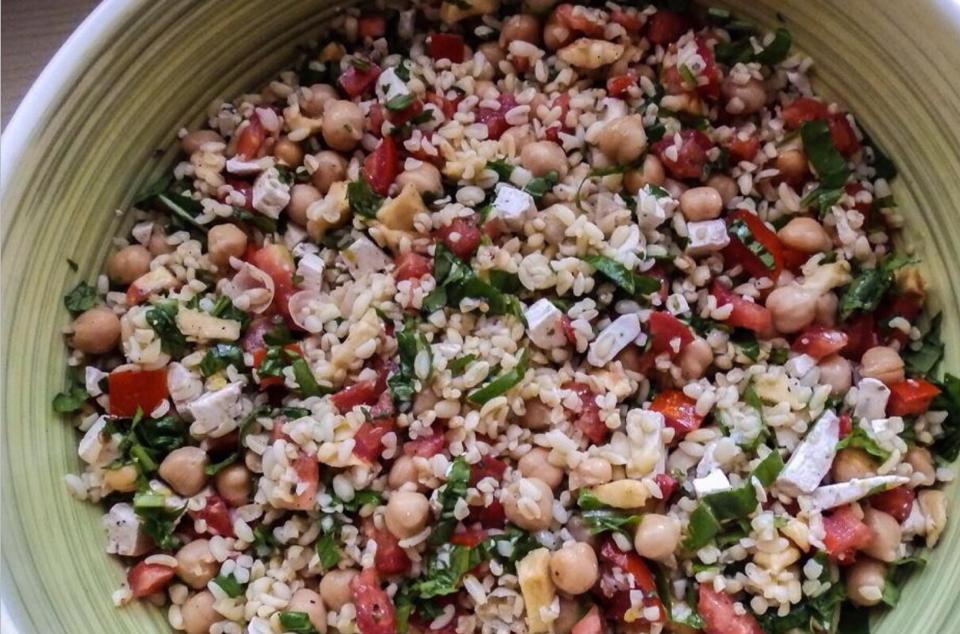 Instructions:
Soak the bulgar in a large bowl for at least 4 hours; I like mine to soften as much as possible.
Drain the bulgar in a colander; leave it to drain properly.
Place the bulgar in a serving dish. Add the rocket, tomatoes, chickpeas, peppered cheese, dried apple pieces, basil and red chili pepper if you are using it. Mix gently.
Add salt and pepper, the grated lemon zest and mix.
Add the olive oil, lemon juice and mix.
Serve or refrigerate.
Did you enjoy reading this recipe and have you tried it? Let us know if you'd like to receive more content like this by sharing, rating and commenting on this post, below.