What does St.Valentine's day mean to you on a personal level? It is by now common knowledge that, as legend has it, there used to be a Roman priest who used to secretly wed Christian couples. This was during a period when Christianity was not tolerated by the emperor, Claudius II. To remain anonymous, the couples who used to send secret notes to each other via the priest would sign off as "Your Valentine". The priest was eventually beheaded for his actions and beliefs and thus became a Martyr.
This day is celebrated differently in various countries and I found it strange that in Asia, presents and Happy Valentine's Day greetings are exchanged not only between amorous couples or secret admirers but also between close relatives and friends. One of the most popular gifts in every country, apart from the mandatory flowers, is undoubtedly chocolate.
The following will make a nice gift to anyone who is fond of chocolate.
For the Truffles You will need :
125 ml Fresh Cream
200 gr Dark Chocolate
30 gr Unsalted Butter or Meadowlea Margarine
2 Tablespoon Rum (Optional)
2 Tablespoons Freshly Roasted Chopped Hazelnuts
50 gr Crushed Digestive Biscuits
3 Tablespoons Good Cocoa Powder (for dusting)
For the Chocolate Box:
300 gr dark chocolate
100 gr white chocolate
Baking parchment
Sharp knife
Cellophane, ribbon for wrapping.
To make the truffles, heat the cream over low heat, add the butter and after around one minute, add the dark chocolate.
When all are melted, add the chopped hazelnuts and the crushed digestive biscuits. Lastly, add the rum or any other favourite liquor and refrigerate for at least 2 hours. Take out from the refrigerator, form balls approximately the size of a walnut and cover with the sifted cocoa powder.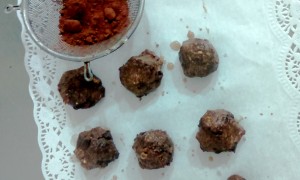 To make the chocolate box, spread the melted dark chocolate on the baking parchment in a thin layer .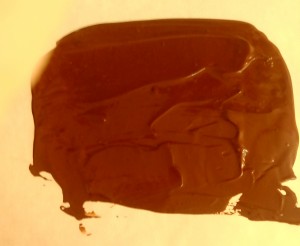 Heat the sharp knife over a flame and cut the bottom and sides of the box from the chocolate layer.
Mount the sides of the box using some of the melted chocolate as glue.
Melt the white chocolate over low heat or in a baine marie and, using a small piping bag, pipe small hearts all around the sides of the box. When set, fill the box with Truffles.
Cut a large square of cellophane, bring the four corners together at the top of the box and use a nice red ribbon to tie it around the middle.
Did you like this article? Would you like more like this? Please leave your message below and help us bring you more quality content by rating and sharing.